When I was cycling around California some years ago, I spent a couple of months in Los Angeles. While I was there, someone offered me a 'Star Map', and so I plotted a few of the locations into my GPS, and then took off into the Hollywood hills on my bicycle to see what I could find.
The first thing I discovered is that the Beverley Hills Security mostly don't expect people to show up on bicycles, so I got a good opportunity to have a look around. If you go cruising around there in a car you will quickly get stopped by the cops.
When I asked a local neighbor which house was Johnny Depp's, he clearly thought I was a stalker, and told me that he had never heard of Johhny Depp. Hmm.
And when I cycled up to the Playboy Mansion gates, a voice came over the intercom telling me to move away.
They also change all the house numbers to throw people like me off the scent, but I had already worked it out using my GPS and info on the web to pin-point places, and so it was kind of easy to figure out the plot.
2 days and 50 miles later, I had a pretty good list of interesting places visited, and the photos to go with it. So I put it all into Google Maps. In the map I also put a photo that I took for each location, and if you scroll the photo down then you can see some info about the place. I have added them into the post below too with a bit of info there.
So click on the picture or link below to go to Google Maps, and click on the relevant pins there to see the photo and the text info beneath it.
And if you don't want to use the map, then here is a list of the places I visited and a photo and info to go with it. The below is a rehash from an old blog I am no longer using.
Enjoy!
L.A. Star Map! Tour of the Homes of Hollywood Legends on Sunset Strip
Like with my Charles Bukowski Tour (blog post coming soon) I was visiting LA for 3 months and needed things to do.
So I got me a 'Star map' and set off on another bike adventure with my GPS and a bunch of Hollowood interests to go and check out where the super stars lived. It's illegal to kerb crawl in Hollywood and thats because of all the rubberneckers who try to spot stars.
No one uses a bicycle in LA or they didnt back in 2007 when I made this trip. I never saw another cyclist on the road and sometimes cars would slow down to ask me what I was doing it for when they heard my Limey accent they seemed to understand. So it was the perfect way to get about Beverley Hills.
The biggest problem I ended up having was locating correct addresses, I think they change the numbers to confuse the tourists and of course the psychos. I did try and ask a neighbour which one Johnny Depp's house was and they got pretty frosty, but I just played into the dumb Limey tourist role and though he relaxed some, he mumbled that he had no idea all the same. Good man though, just being a decent neighbour protecting the Depp.
Then at the Playboy Mansion I got up to the gates to try to peek inside and the intercom loudly told me to move away from the gates or expect an armed response. You have to love America. Anyway I had fun, and some of those damn hills are something else.
Anyway, I hope you enjoy these photos, though don't expect to see too much, but the map to go with it will help you locate the places if you ever go. I can highly recommend it !
---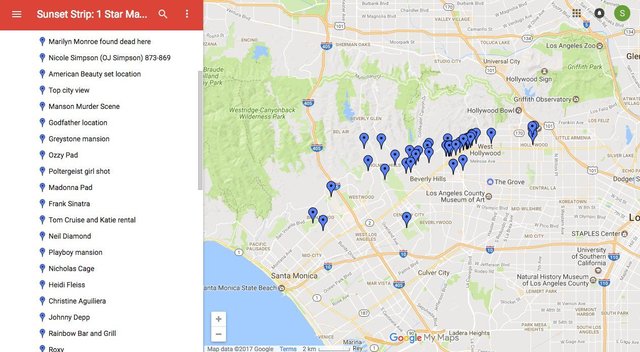 By the way, the first location on the map is the apartment address where I was staying in LA back then. Out the back of it was Nicole Kidmans prefab, or so I was told. I think they were having me on though. No photos of that.
---
All photos are copyright MarkDKBerry – 2007
So lets get started…
12305 5th Helena Dr, Los Angeles, CA 90049 – Marilyn Monroe found dead here.
I think both these places lead to the same address. It isnt numbered, as most stars places arent, probably to confuse people like me. But the one out of shot to the right of this was numbered 12304 and there werent any others, it was a short drive with this at the end of it. Deduction Watson.
---
879 S Bundy Dr, Los Angeles, CA 90049. Nicole Simpson Died here (OJ Simpson, yea we all know he did it) .
This is 873 to 869 but I am pretty sure this is the place. There is a place next door which is 879 but they renumbered them and it looked too small and hidden. This one would match the photos of the death scene and aerial shots I found on the web. I am getting pretty into this gore stuff here, but I may as well try and get it right.
---
11388 Homedale St, Los Angeles, CA 90049 – American Beauty set location.
The house used in the film, though the neighbours place is actually somewhere across town.
---
Bel Air Place, Los Angeles, CA 90077 – Top City View.
On the star map it says the view is worth it, but they didnt have to cycle 300 vertical metres to get to it. Disappointed I was. Plus it wasnt much of a view with the fog, you can't see it but that is LA in the distance. I went on a little further looking for a better shot and snuck into these kind peoples driveway (2nd photo above) for the only other view (first photo). All in all, the best bit was the cycle back down. This hill climb did me in, to be honest. It was the end of the 2nd day and my legs were like tree stumps after. All for that shot! Ridiculous.
---
10048 Cielo Dr, Beverly Hills, CA 90210. – Charles Manson Family Murders.
Not much to see here. It was 10050 but I guess they figured changing the number no one would remember. This is where the Manson family killed a few people. Think it was Sharon Tate, though it might have been the other place. They did someone here.
---
1011 N Beverly Dr, Beverly Hills, CA 90210 – The Godfather was filmed in and around this place, feeling it?
---
905 Loma Vista Dr, Beverly Hills, CA 90210 – Greystone Mansion.
Big place up a steep cycle climb and totally whacked out by the time I got to it. I couldnt remember why I had it on my list. Finally there were some good views but didnt bother checking the mansion itself out. Just took this shot from the car park and took off, which I regret now because the mansion featured in lots of films like Ghostbusters and Witches of Eastwick. Would recommend visiting because it is a park open to the public and about the only place in Bel Air that is.
---
513 Doheny Rd, Beverly Hills, CA 90210 – Ozzy Osbourne at the Gates of Hell.
So the lord of darkness has a pink house. I thought so. If you are wondering what the sign says on the main entrance gate it is something like 'Forget the dog, beware of the owner'. Considering this man once snorted a line of ants he deserves the respect.
Ozzy also has a place in England around Chalfont St Peters I think it was, or Denham, near where I lived for a while and on his birthday he launches missiles from his garden, like the maniac that he is.
---
8723 Rangely Ave, Los Angeles, CA 90048 – Poltergeist actor. Shot in the driveway by her boyfriend.
Sad story but nice house, kinda cute. This is south of Sunset rather than in the Beverley Hills zone. You can see why doing this by bicycle helps. No one minds if you stop. No curb-crawling law for bicycles.
---
9425 Sunset Blvd, Beverly Hills, CA 90210 – Madonna's Pad.
Someone was having a party when I went by, banging tunes coming from the garden. Couldnt see a thing of course.
---
915 N Foothill Rd, Beverly Hills, CA 90210 – Frank Sinatra's old place.
Shot through the gates, not me, nor old blue eyes, the photograph was.
---
918 N Alpine Dr, Beverly Hills, CA 90210 – Tom Cruise and Katie Holmes rental.
Another famous gate and hedge situation. Of course they are long since split up so maybe someone else lives here at the time I write this, or maybe Tom still.
---
904 Glen Way, Beverly Hills, CA 90210 – Neil Diamond.
They say there is a bit of the old crooner in all of us. If your mum was into him in the 60's it could be possible.
---
10236 Charing Cross Rd, Los Angeles, CA 90024 – The Playboy Mansion.
This is all you can see. It was a long uphill hike for this too. If you go near those gates a loud voice tells you that you are trespassing. I think it was god. I later bumped into The Heff briefly in a night club with his bouncers and ladies in tow. The lady I was with was invited to join them, I wasnt. Still, he is the Heff so respec'.
---
363 Copa de Oro Rd, Los Angeles, CA 90077 – Nicholas Cage.
Almost as devilish gatework as Ozzy's. I met Mr Cage in a weird incident one New Years eve in Glastonbury, England when he walked into the pub we were in. He bought a pint, sat down for a moment, then stood up announced happy new year and then ran out the door. The pub was called 'Who'd have thought it', I reckon he was having a laugh. Saw him with his family sight-seeing a bit later, so clearly not just a mental-case… or is he? Great actor, and in that great movie Wild at Heart, so I can forgive him these little quirky Hollowood things.
---
1020 Tower Rd, Beverly Hills, CA 90210 – This is actually not Heidi Fleiss's place,
Nor where she was arrested for having naughty parties. And if you are really smart you will notice it actually says 1022 on the pavement and not 1020, that is because I couldnt find 1020. Which isnt a surprise because this is the other Tower Road, or maybe it isnt. Damn Star map. But a very nice place it is too and since you can actually see more than a hedge and a gate lets just pretend that inside Heidi is having a party with some superstars. Sorted. Except if you watch the doco you will realise it was all hype, and actually she is boring as batsh*t. So let's move on…
---
1443 Devlin Dr, West Hollywood, CA 90069 – Christine Aguiliera.
In the photo hers is the one with the wood beams sticking out above the garage. Supposed to be a pretty rock and roll pad, but just like all the stars places you can't see much from the outside. $5 Million (circa 2007) with 5 rooms, theatre bar and luxury pool with 25ft waterfall. We'll just have to imagine.
---
1486 N Sweetzer Ave, West Hollywood, CA 90069 – Johnny Depp.
The only view I could get of Johnny Depps pad. This is taken from Sunset Blvd. His place is in the top left corner of the photo in the trees. I went up Sweetzer Ave and couldnt find the number but figured out which it was from the empty lot that is below the M in the right of the shot, apparently he is fighting to stop them building a high rise there which would obscure his view of LA. This was the first celeb place I tried to find and asked some black dude who was living up there which JD's pad was. He said he didnt live round there and that I was mistaken.
---
9001 W Sunset Blvd, West Hollywood, CA 90069 – The Rainbow and The Roxy.
Was Villa Nova Restaurant before it was called the Rainbow, famous for something. Now a bit of an 80's rock joint with tables for Slash and Lemmy (RIP). You can see the Roxy Theatre on the right. More name dropping from me, but I used to see Lemmy in the Saint Moritz when I worked in London clubs. He was always in there propping up the bar and the fruit machine pretty much most nights until he moved out to LA. Slash, him I stepped on his toe in Camden Palace. I actually thought he was some wannabe dressed up like Slash until someone told me it was the actual dude. There you go. He was actually pretty cool about the toes thing, I liked him after that.
---
9009 W Sunset Blvd, West Hollywood, CA 90069 – Here is the Roxy.
It was a theatre, that is as much as I know. Let's move on… Hang on, I just found out some things about it. Apparently Rod Stewart met Rachel Hunter here. David Bowie and Prince played here among others. er…whatever…The Roxy. moving on.
---
8901 W Sunset Blvd, West Hollywood, CA 90069 – The Whisky Go Go.
The Doors were the house band here in 1966. Anyone who was anyone from the old school played or visited this venue. Now all you get is rock bandits of the short pant, white sox, and dodgy goatie variety playing all types of music so long as it is metal. Dukes Coffee shop, a hot hang out apparently, is right next door. But much more interesting was monkey boy doing his thing on the opposite side of the street.
---
8920 W Sunset Blvd, West Hollywood, CA 90069 – Hustler Store.
Stopped here for a coffee. Within 10 minutes I had seen more than enough short pants and flesh to make me want to stay for the rest of the day. But my mission was set. There are various porn stars hand prints outside the front. Should have used body parts really, but there you go. Note Ron Jeremy's small hands. Makes you think don't it.
---
8852 W Sunset Blvd, West Hollywood, CA 90069 – Viper Rooms.
Everyone knows the River Phoenix connection here. I didnt really get it with this place, it is small and a little bit pony.
---
8585 W Sunset Blvd, West Hollywood, CA 90069 – Mel's Drive In.
Used to be called Ben Frank's and a hang out for Jim Morrison, Andy Warhol and the Rolling Stones. Still very busy around this area and lots of posh noshing going on in the streets. The restaurants over the road were the busiest I saw along Sunset Blvd that day. Open 24hrs except when you are cycling drunk at 4am after clubbing and the street has a power cut, I later found out. Bummer.
---
8440 W Sunset Blvd, West Hollywood, CA 90069 – Sky Bar @ Mondrian
is a swanky restaurant. The main entrance to Sky Bar is through the hotel lobby. Entrance to this can be seen between the two large doors which one drives between and the car is whisked away. Very busy comings and goings all day and night. Sky Bar is supposed to be one of the best places to go at the moment (2007). The concierge told me I could come in dressed as I liked but I had to ring up and reserve first. I may pop in for a snifter at some point. It is on the roof with a pool which sounds to me like a place to be at sunset o'clock. But I feel it might require a wing man and I haveth not one.
---
8433 W Sunset Blvd, West Hollywood, CA 90069 – Comedy Store.
Supposedly haunted by ghosts of people the mobsters used to torture in the basement when it was a diner called Ciro's. Now it is a comedy store. Funny that.
---
8401 W Sunset Blvd, West Hollywood, CA 90069 – Hyatt Hotel.
Hyatt Hotel where once Led Zeppelin launched TV's from windows. Now home to Justin Trousersnakes restaurant called Chi, Where is the rock n roll in that? Also a funky wild west style restaurant in the shot called the Saddle Ranch. This used to be Thunder Roadhouse Cafe and was owned by Dennis Hopper and Peter Fonda (Easy Rider stars, for you kids), and to the right of that, which you can't see, is a train carriage that is a restaurant too. This is as exciting as it gets.
8221 W Sunset Blvd, Los Angeles, CA 90046 – Chateaux Marmont.
John Belushi OD'd in bungalow 3. Led Zeppelin rode Harley's down the Halls. Marilyn Monroe used to drink here. I cycled by on a bicycle and took a photo.
---
– Spaulding Drv. Hugh Grant's Divine BJ.
Somewhere around this spot Hugh picked up Divine, and a little further on Eddie Murphy 'accidently' gave a transvestite a lift. Yes, it is on my 'Star map' guide, so what the hell. Here is a photo.
---
– 1714 Ivar Ave, Los Angeles, CA 90028 – Knickerbocker Hotel.
Elvis used to stay in suite 1016. Houdini's widow had seances on the roof. A couple of famous directors died in the lobby, not sure who or how. Joe DiMaggio and Marilyn Monroe honeymooned here. You can just see the Hollywood sign in the left of the piccy in the distance. This too is the real deal, yea.
---
– 9641 Sunset Blvd, Beverly Hills, CA 90210 – Beverley Hills Hotel.
This place looked so familiar and I still can't work out why. It has been rebuilt for $100 Million and holds a renowned bar called the Polo Lounge.
---
– 643 N La Cienega Blvd, West Hollywood, CA 90069 – Advertised as Prey Nightclub
but seems to me to be called the Area and I have no idea what it is anyway, it was on the map so must be spesh.
---
No picture of map location 'Various Bars'
…. interlude…..[w. elevator music]
---
1626 N Cahuenga Blvd, Los Angeles, CA 90028 – Er…
Yea I was kind of losing my mojo at this point for a while. So no photos of various bars. Here is a random address where some are supposed to be though.
---
The Black Widows
Like that helmet geezer! Took this while sat having coffee in the Hustler cafe. Not that exciting but I put it in here as it is in my set.
---
So what right? Yea. Again I liked the piccy so here it is. Arty, init.
We get back to something more Hollowood in a moment. I dont know where it is exactly but I took the photo on Cahuenga Blvd and it is facing South West-ish.
---
At the bottom of Sweetzer Ave, which Johhny Depp lives on, spotted this nice little open bar.
---
Ridiculously large implanted butt cheeks.
I wish I had got the rear angle shot, it was an epic wide berth, but I felt she might have attacked me. This is what LA is all about, nothing is real, yea baby!
---
Back to the Star Map. Yey! I hear you say.
Herewith be a House, with Blues inside. Ice Cube sings da blues on a Sunday maybe? Apparently this is co-owned by Dan Akroyd and Aerosmith. Sorry neglected the address but its on the map GPS.
---
Yea, suck on my spokes beeaaatches!
These are all the way along Sunset Blvd. Doesnt apply to bicycles. Have at thee, Star Map!
---
Please shoot him, go on , please please please. I have come all this way. JUST SHOOOT HIM! god damn it.
---
The first highrise built on Sunset Strip. Sunset Tower.
Howard Hughes kept suites here for his girlfriends, just about every old school actor and actress came here at some time. The pool featured in the films The Player and The Italian Job. Had me confused for a while because there is one further up called Sunset Towers.
---
8730 Sunset Boulevard. – Sunset Towers. Not to be confused with Sunset Tower Hotel.
This is…I dont know what this is, other than a place they hang some large posters.
---
Looking down La Cienega Blvd from Sunset Blvd.
Which is where I began my 2 day hunt for star pads and hot spots, and also the point at which I left to head home. And that's enough star spotting nonsense for me, hope you enjoyed it. And of course make use of the GoogleMap GPS location of all the photos in this article click here to enjoy it all for yourself too, if you ever make it to the city of Lost Angels.
---
No Los Angeles visit would be complete without a visit to my favourite of all spots…
Venice Beach.
I love this part of LA the most and cant spend enough time on the strip between Santa Monica Pier and Venice Beach. And there is a shot of my trusty bike that took me round the world from UK to USA, on to Australia and into the outback. I sold it in the end, as it ended up just being a clothes rack in my bedsit on Bondi beach. Turns out I wasnt much of a cyclist after all.
---
Happy Californicating !
Don't forget to check out my other link all about Charles Bukowski and the places he lived in LA along with photos and a google map of them too. I will be sharing them soon right here.
All photos are copyright MarkDKBerry – 2007